Pork Rib Rub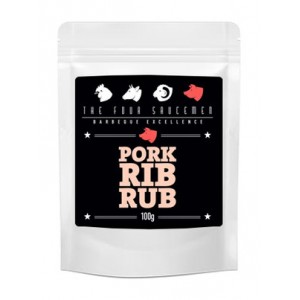 The Four Saucemen Pork Rib Rub - 100g
The Four Saucemen Pork Rib Rub - 100g
Meatstock Winner! The Four Saucemen barbeque team, winners at Meatstock: New Zealands largest BBQ competition.
The team is now sharing this winning barbeque rub so that you too can produce award winning ribs at your place!
100 grams of banging flavour! WINNER at Meatstock Auckland 2018 Pork Rib Category. Sweet and smokey with a little bit of heat. You will impress the toughest judges. At home or on the competition circuit.
Simply rub your ribs (our Wichita ribs can't be beat!) with oil (we use The Good Oil) and sprinkle the Four Saucemen rub liberally on all sides 30 minutes prior to cooking in your BBQ
Ingredients: sugar, paprika, salt, garlic powder, mustard powder, tri calcium phosphate (anti caking agent) black pepper and chilli powder. YUM.