Instant Read Fold Out Probe No1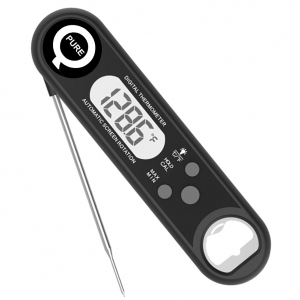 Pure Q No.1 Instant Read Fold-Out Probe BBQ Thermometer
Pure Q No.1 Instant Read Fold-Out Probe BBQ Thermometer
Ultra-fast Manual Probe meat thermometer with a super fast 2-3 second read time.
High accuracy of ± 1℃ (±2℉) and temperature range of -50°C to 300°C (-58°F to 572°F)

This digital pen type thermometer is button battery operated (Included)   

Includes LCD backlight to allow easy reading in any light condition.

Waterproof to IP67, can be washed by running water directly, left out in the rain or even dropped in the soup accidentally and will keep on working.
The PureQ Instant Read is simple to operate; open it to turn on the device and fold the probe back to turn it off - plus automatic shutdown after 10 minutes without use.
The probe can rotate 240 degrees and the display can automatically rotate 180 degrees.
Made of high-temp ABS makes this probe durable, non-flammable.
Includes a sturdy Stainless Steel bottle opener!