Smoker Tube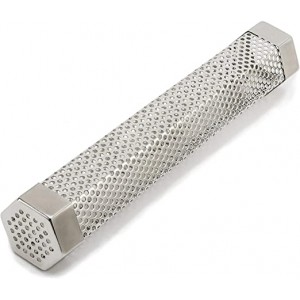 Stainless Steel BBQ Pellet Smoker Tube 300mm
Stainless Steel BBQ Pellet Smoker Tube
This smoke generator makes the smoking process easy and accessible to anyone. Due to its small size and unique design, it will burn wood pellets to provide a real natural wood flavour without needing an expensive cold smoker.
Fill the smoker tube with food grade wood pellets and light.
Perfect for hot and cold smoking, it delivers a continuous clean and wispy smoke up to 4 hours, provides adequate smoke to add a flavorful taste to pork, ribs, sausages, fishes, meat, cheese, nuts and vegetables etc.
Produces smoke for up to 4 hours 
GREAT GIFT - A perfect gift for that favorite pitmaster in your family.
Its Hexagonal shape allows for the efficient diffusion of smoke, therefore, it will give you a terrific smoking result.
The hexagon shape stays in place to provide balanced smoking.


50mm Wide x 300mm long

Stainless Steel