Cast Iron Toasty Pie Maker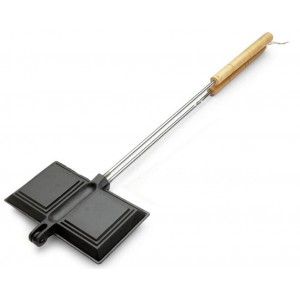 Non-stick Sandwich Toastie Maker Cast Iron Double Pie Iron Jaffle
Non-stick Sandwich Toastie Maker Cast Iron Double Pie Iron Jaffle
Cook all your favourite toasted sandwiches in this handy cast iron hiking bakeware. 
Simply place the closed cast iron double pie iron sandwich cooker on the side of the fire or cook on a stove top during camping cooking.
Non-stick Sandwich Toastie Maker Cast Iron Double Pie Iron Jaffle

Cast Iron camping set sandwich maker, pie maker, sandwich cooker, pie iron, jaffle iron, camp cooker, pie cooker

Chip resistant cast iron construction heats evenly creating the perfect surface for cooking

Cast iron sandwich waffle maker can be used on gas stoves or directly in the fire

Cast iron surface is easy to clean, making it the perfect cookware to use camping

Solid construction retains heat longer than aluminum or stainless steel

Rinse with hot water (do not use soap), and dry thoroughly.

Before cooking with the sandwich waffle maker, apply vegetable oil to the cooking surface of your jaffle iron and pre-heat the waffle maker slowly (always start on low heat, increasing the temperature slowly).

Avoid cooking very cold food in the sandwich waffle maker, as this can promote sticking.

Towel dry immediately and apply a light coating of oil to the utensil while it is still warm.

Do not let your cast iron sandwich waffle maker air dry, as this can promote rust.

Store in a cool, dry place.

NEVER wash in dishwasher.

After cooking, clean cast iron sandwich waffle maker with a stiff nylon brush and hot water. Soap and harsh detergents should never be used.