ADX Automatic 2400W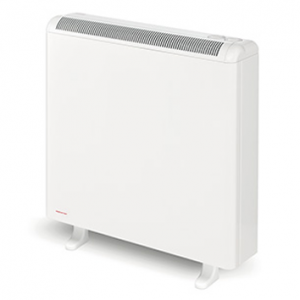 ADX Automatic Static 2400W Night Store Heater
Elnur ADX Automatic Storage Heater 2400W
ADX storage heaters offer warmth where it is needed in a single room or throughout the house. A constant low level of background heat prevents the fabric of the building from cooling. On demand, this fast –acting appliance raises the temperature to meet your needs, providing total control and the peace of mind that comes with low running costs.
This automatic ADX range offers improved comfort, economy and easy of use. With a sophisticated automatic charging system to ensure the level of charge is adjusted to compensate for changing weather conditions without the need for user intervention. At the heart of this system is the patented DUAL SENSOR.
ADX storage heaters are fitted with high density refractory storage blocks which enable them to store more energy during the night and at much lower temperatures. The charging and discharging of the storage heater is regulated by setting the corresponding controls.
When used correctly in a suitable location the heater will maintain the required degree of comfort throughout the day.
Features:
Designed to use off-peak electricity tariff.

Safety thermostat with manual reset.

Automatic thermostatic control.

Charging thermostat with DUAL SENSOR tube.

Microtherm G 10mm insulation, vermiculite and ecological fibre.

Side, front and rear air chambers.

Reinforced stainless steel heating elements.

High density magnetitie refractory bricks.

High resistance polyamide floor fitting supports.

Powder coated RAL 9010 steel structure

2 Year Warranty
Output: 2400W

Charging (8 Hours): 19.2kW
Width: 765mm

Height: 725mm

Depth: 160mm (plus 20mm space from wall)

Weight: 114KG
Number of Blocks: 12

Weight of Blocks: 7.5KG
ADX suitable for replacing your old Night Store heater on an existing separately metered circuit with night rate tarrif:
This reduced rate is for the supply of electricity to a separately metered night store heater. Typically this will be for an 8 hour period between 11pm and 7am and may include a "boost" period. The storage heater is permanently wired to a separate meter and the electricity supply is subject to unscheduled interruptions. 
Keep Warm Using Solar Power
Storage heaters (night store heaters) are increasingly popular in solar powered households, essentially running them in reverse. You can simply store the excess solar electricity produced from your solar system in the home.
Our Elnur ADX storage heaters contain high density thermal bricks designed to hold a lot of heat energy. Power them up during the day when the solar panels are capturing maximum energy and let the Storage Heater heat your home at ni

ght - using free energy from the sun!