Stainless Steel Meat Claws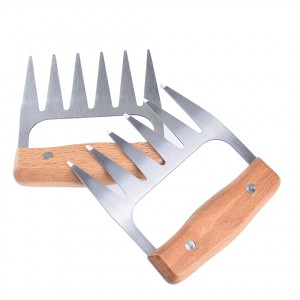 Stainless Steel BBQ Meat Claws - 1 Pair
Stainless Steel BBQ Meat Handling Bear Claw Forks with Wooden Handle
Durable Stainless Steel Meat Handling Tool/Barbecue Meat Shredder
1 Pair = 2 Claws

Ideal for all meat handling: 

Pulling, Shredding, Lifting, Gripping, Serving & More

Durable Stainless Steel Meat Shredder: Claws are made of premium solid 2mm thick stainless steel 

Comfortable Wooden Handles: Ergonomic, non-slip grip design. Thick wooden handle prevents the claws becoming too hot to handle.

Sharp: Claws are extremely sharp and more efficient than plastic claws alternatives, takes just a few minutes to pull pork.