Rotisserie Tumble Basket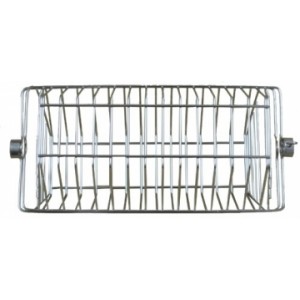 Rotisserie Spit Hexagonal Tumble Basket
BBQ Rotisserie Multi Use Hexagonal Tumble Basket 
If you're a fan of roasting and already have a rotisserie spit, you'll find this Outdoor Magic hexagonal tumble basket extremely useful as it can cook food your rod simply can't.
The basket fits easily onto your rotisserie spit. The food inside the tumble basket rotates and is cooked as the rotisserie spit slowly spins.
Ensure the food inside the basket is going to hold together as it rolls around. Sturdy foods like vegetables, and whole chicken wings will work best when starting out.
Features:
Chrome Plated Steel Construction

Strong clip to hold basket closed while in use

Easy to clean with dishwashing liquid

2 Thumbscrews to lock to spit Rod
Dimensions:
Fits up to 10mm diameter or square rod

300mmW x 150mmH x 150mmD