BKF Cleanser and Polish 340g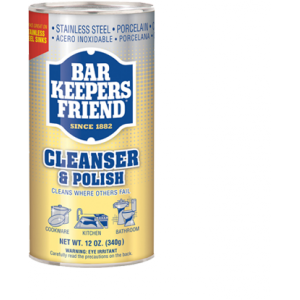 Bar Keepers Friend Cleanser & Polish 340g
Bar Keepers Friend Cleanser & Polish 340g
Bar Keepers Friend Cleanser & Polish started it all back in 1882.  This is the Classic formula in its original state.  This powdered cleanser is the most flexible choice for any surface or stain.
Ideal cleaner for in and around your BBQ, for so easily cleaning grills, hotplates and deflectors.
As a bleach-free product, Cleanser & Polish is an ideal stainless steel cleaner and can easily remove rust, tarnish, mineral deposits, and tough stains.
Cleaning Made Simple
Wet surface to be cleaned.

Sprinkle a small amount of Cleanser & Polish on the dampened surface.

Rub gently with a wet cloth or sponge.

Add more product as necessary.

Rinse thoroughly within one minute of application.

Wipe surface dry.
Choose Your Scrubbing Power
For mineral deposits or to remove rust, make a thick paste with Cleanser & Polish and water.

For a stainless steel cleaner, use more water to form a thinner mixture.
Always Test First!
Some ingredients in Cleanser & Polish may etch or dull delicate surfaces.

Before cleaning fiberglass, plastics, anodized aluminum, or brushed metal surfaces—including appliance exteriors—test first.

Always test in a small, inconspicuous area.
visit the  

Bar Keepers Friend

  website for more information and handy instructional videos