Tabletop Pizza Oven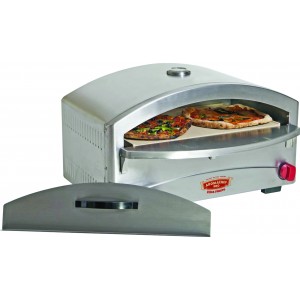 Aromachef Pizza Presto Gas Fired Tabletop Pizza Oven
Aromachef Pizza Presto Stainless Steel Oven
With the Pizza Presto portable oven you can create gourmet pizzas right in your own backyard - and it doesn't stop there! Take it out for the campfire cook up or treat your friends to a slice of Italian cuisine at a picnic ot the beach.
The twin skin stainless steel construction ensures high heat retention and the dome ensures even air distribution, creating the perfect portable convection experience every time.
Enjoy crispy melt-in-your-mouth Pizza or the aroma of home baked bread - made easy with the Pizza Presto!
built in temperature gauge

piezo ignition

ceramic pizza stone

easy to clean stainless steel construction

twin skinned design enhances performance

connects to standard 9kg LPG bottle 

gas hose & regulator supplied

high heat - 17,000 BTUs, oven reaches upwards of 370

°C

preheat and ready to cook in 15 minutes

cook pizzas in under 3 minutes 
Output: 17,000 BTU

Ignition: Piezo

Overall dimensions (mm): 660W x 381 H x 406D

Pizza stone measures 510mmW x 340mmD