Outland Firebowl Deluxe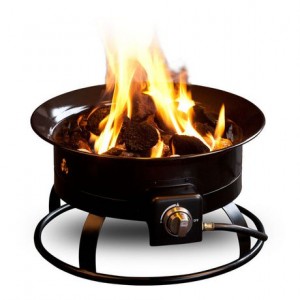 Outland Firebowl Deluxe Portable Gas Campfire
Outland Firebowl Deluxe Portable Gas Brazier/Campfire 
Adding an authentic ambience to any atmosphere, the Outland Firebowl Deluxe is portable and convenient.
With construction from high quality steel and a protective enamel finish, your Outland Firebowl is guaranteed for long lasting durability.

 
The Outland Firebowl Deluxe can be used in the backyard, patio or porch - or take it with you camping or to a picnic!
Burning clean and smokeless, the Firebowl provides instant warmth and a genuine campfire experience anywhere you go.
Includes cover/carry straps, 3 metre hose with regulator, gas cylinder stabiliser ring, and decorative rock set

58,000 BTU/h, with use of 9KG LPG Cylinder

Dimensions: Diameter 470mm x Height 260mm

Lightweight and portable, the Outland Firebowl Deluxe weighs 10.6KG