Aspect XL2 1300W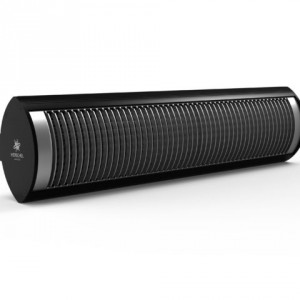 Herschel Aspect XL2 1.3kW Patio Heater
Herschel Aspect XL2 1.3kW Patio Heater
Outdoor heating just doesn't get better than this. Extend your evenings outdoors with this brand new space heater and be comfortably warm outdoors.
Aspect XL2:
DIMENSIONS: 550mm x 100mm x 140mm
POWER: 1300W
WEIGHT: 4.5KG 
IP RATING: IPX4
ELEMENT: 2 convex ceramic longwave Infrared emitters (3-10 microns)
BODY: High quality extruded and anodised aluminium body
WARRANTY: 5 Years
Aspect heaters have been specially designed to heat sheltered and semi-covered areas where a more permanent heat is required without the intensity and red glow associated with halogen and quartz heaters.
The Aspect is a very high quality, zero light heater which utilises solid state ceramic emitters to produce far infrared to gently warm people and the surroundings, the heat from which is similar to the feeling of winter sun.
Aspect comes complete with a 5 year warranty and long lifetime, avoiding the need for maintenance and frequent replacement of bulbs.
Unique in the market, the Aspect XL sets the new benchmark in space heating. Utilising specially developed convex ceramic emitters with in a high quality extruded and anodised aluminium body. The groundbreaking design of the convex insulated elements, complete with triple reflectors, projects far infrared heat forwards. The result is greater efficiency, a wider spread and throw and increased comfort levels. Unique only to Herschel, no other heater available utilises this technology.
Designed to be the most stylish heater of its kind, Aspect XL not only looks stunning, it performs well too. With near zero light and no noise or odour, this is comfort heating at its best. Aspect Heaters are ideally suited for use under covered sheltered areas such as alfresco dining areas, pubs, terraces and patios, outdoor rooms.
Key features
Up to 30% more efficient than quartz and halogen heaters

No maintenance

Long lifetime –solid state technology with no need to replace bulbs

Stylish looks and cutting edge design with aluminium grill as standard

Manufactured in Europe to very high quality and European safety standards

Designed to gently warm people and buildings without fierce heat and almost zero light

For use indoors or outdoors, under shelter, in areas with low air / wind movement

Warm up time < 5 mins, for use where permanent or semi-permanent heat is required

Convex design increases spread and throw of far infrared heat
Installation
The Herschel Aspect XL must be located in a position to allow proper and efficient use but one that ensures hot parts are not touched accidentally. The recommended installation height of the Aspect XL is 2.3m to 2.5m (90"-98") from the floor and under no circumstances is it to be installed at less than 1.8m from the floor.  In all cases it should be installed at a height where it cannot be touched in operation.  Consideration should be given to any temporary or occasional additions such as stages or platforms, and the height should be adjusted accordingly. The Herschel Aspect XL should be firmly and permanently attached to the wall using the bracket supplied, with the heaters angled down at 60 degrees from vertical.