Ooni Pro Portable Multi Fuel Oven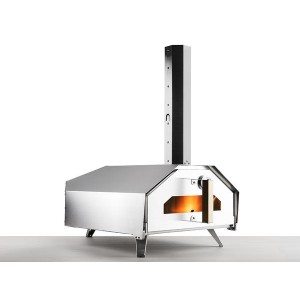 Ooni Pro - Multi Fuel Portable Oven 
Ooni Pro - Multi Fuel Oven with a Stone Baking Board
Ooni Pro is the first outdoor oven to include a quad-fuel function, capable of running on wood, charcoal, wood pellets or gas*. Ooni Pro is the ultimate tool for your outdoor kitchen.
It's Hot
Ooni Pro can reach temperatures of 500˚C in just 20 minutes, and it takes only 60 seconds to cook an authentic pizza (up to 400mm in size).

Unparalleled Versatility
The cooking area of Ooni Pro and it's multi-fuel capabilities means Pro is extremely versatile -you can cook a huge variety of food; large roast meats, fish, vegetables, bake bread and lots more.



Ooni Pro comes with the Wood + Charcoal Burner as a standard. As the name suggests, it's for burning regular wood kindling as well as charcoal. We love using the Pro with charcoal to provide the main baseline of heat and then before a pizza goes in we throw on a few bits of wood to give the extra oomph and flavour.

Ooni Pro comes with 2 doors. Ooni Pro Door with Thermometer helps you to check out the oven's temperature at a glance. Uuni Pro also includes our patent pending Ooni Pro Pizza Door. This door has a 'letter box' opening to slide pizzas in and out easily. It's fully removable too so it's easy to put in a large piece of meat or bread. This is the only door to use with the Gas Burner.

Key features
Multi-fuel capabilities, allowing users the option to burn wood, charcoal, gas and pellets.

Large cooking surface, enabling you to bake 400mm (16") pizzas, breads, roast joints of meat and lots more.

Ooni Pro is transportable at approx. 26KG i.e. can be moved from table top to garage after use or loaded in the boot of a car

Patent pending design
 
What's in the box
Ooni Pro Oven

Stone Baking Board (4 parts)

Door With Thermometer

Pizza Door

Wood & Charcoal Burner

Safety Gloves

Uuni Pro Manual

Allen Key
Technical Features
Dimensions: 740mmL x 490mmW x 790mmH

Cooking surface: 450mmW x 450mmD 

Internal Oven Height: 235mm

Made of 430 stainless steel

Ceramic fiber insulated

Dual airflow control

Security loop - the ability to secure your Pro to your garden furniture

15mm cordierite stone for high heat retention
Please note: wood pellets are sold separately from BBQs Direct, available in 9KG and 12KG bags