Kent Tilefire Max II 15kW Package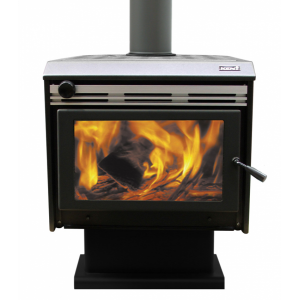 Kent Tilefire Max C/A II 15kW Low Emission Woodfire & 4.2M Flue Kit
Kent Tilefire Max C/A II 15kW Low Emission Woodfire & 4.2M Flue Kit
Our Package Includes:   
Kent Low Emission Woodfire
Kent 4.2M Freestanding Flue Kit including Flue Shield
Free Shipping NZ Wide - NOTE: Rural Delivery to nearest transport depot please read our 

delivery policy
• Clean air approved compact combi-heat fire.
• Warm air is convected around the room, combined with radiated heat.
• Suitable for larger rooms and higher ceiling heights.
• European matt black design,with external tiles, 5mm steel.
• Vermiculite brick lined firebox.
Specifications
• Estimated maximum heat output: 15kW
• Heats area up to 180m² (typically up to four standard rooms).
• Average emission rate: 0.53g/kg or 38.43mg/MJ
• Overall average efficiency: 69%.
• ECAN Authorisation No.: 132877.