Clima 1100W Panel Radiator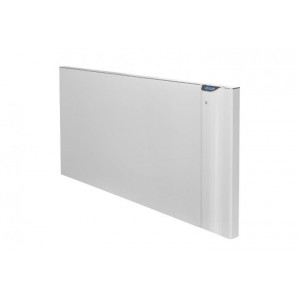 NEW Intelligent digital dual-therm heating panel, integrates radiant and convection heat.
Clima 1100W Digital Dual-Therm Panel Radiator
A discreet, elegant, sleek design featuring electronic technology with an LCD screen that you can use to accurately select your desired temperature.
The gentle, diffused heat makes you feel snug, cosy and comfortable.
Temperature Adjustment:
with its user friendly keypad, Clima allows you to precisely adjust the temperature in your room down to 0.1 of a degree, to make sure it never strays from your desired comfort. 
The room temperature that you set is always displayed on the keypad, which is backlit when the keys are pressed. At the same time you can also check the actual temperature in the room at any time.
Energy Saving:
The cutting edge Clima technology incorporates everything you need to optimise your energy consumption:
Easy & practical weekly programming - with 3 pre-set programmes to suit your lifestyle: one for daily living, one for offices/workplaces and the other for weekends.
A movement sensor - that adapts the radiator to your living patterns, automatically lowering the room temperature when the room is empty. The radiator continuously monitors the room and, if no people are detected, it reduces the comfort temperature to optimise comfort and energy savings.
Energy saving security function - an open window sensor that switches the radiator to stand-by mode if windows are accidently left open, thus avoiding wasted energy consumption. If a sudden reduction in temperature is detected when the heater is operating normally, the anti-freeze mode is activated to reduce electricity wastage. 
A consumption display - so you can monitor electricity consumption for the temperature you have set
Manufactured in Italy

- 

Warranty: 10 Years