Patio Bistro 180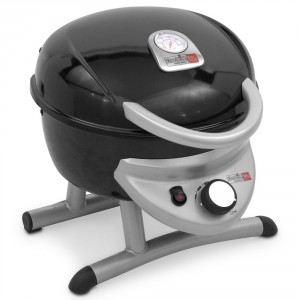 Char-Broil Portable Patio Bistro® Gas Grill
Char-Broil Portable Patio Bistro® Gas Grill
Looking to take your gas grilling on the go? Look no further than the Portable Patio Bistro® gas grill.
Features include a push-button ignition, lid-mounted temperature gauge, and porcelain-coated grills. It's designed to be sturdy and convenient, so you can set up your grill with you when you're tailgating, camping or on the beach.
TRU-Infrared™ Cooking System
Cook your food evenly and with less flare-ups, using infrared technology. You'll get juicier food every time.
Warming Rack
Use this removable shelf to keep cooked foods warm, to toast bread or as an indirect cooking surface.
Stainless Steel Burners
The durable metal burners can take the heat and are built to last. 9000BTU.
Warranty
You're covered for 5 years on the burners, 2 years on the firebox and lid and all other parts are covered for 1 year.
Surefire® Electronic Igniter
An electronic igniter at each burner means you can light all your burners with the simple push of a button. No matches needed.
Stainless Steel Burner Tent The stainless steel tent protects the burners from dripping juices and helps disperse heat.
Lid-Mounted Temperature Gauge
Keep track of pre-heat status and monitor the inside temperature of your grill.
Assembled Dimensions
450mmW x 544mmD x 440mmH